Climbing the Dom Tower in Utrecht The Netherlands
September 10, 2015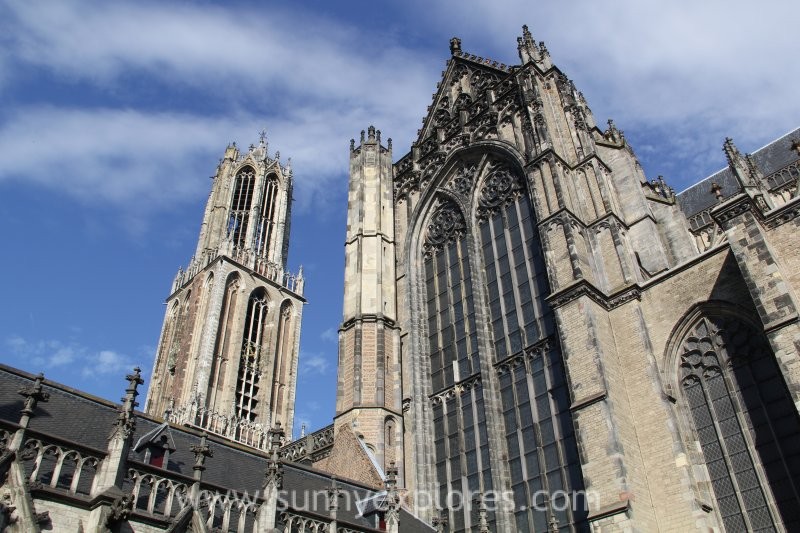 For centuries the Dom Tower defines the image of the city of Utrecht. With its 465 steps and 112 metres, it is the highest church tower in The Netherlands. Climbing the Dom Tower is a rewarding endeavor: de view is great!
The Dom was built from 1254 as the cathedral of the diocese of Utrecht. Now a days the most striking is, that the tower and the church are separated. The middle part, the nave of the church, collapsed during a tornado in 1674. The rubble remained for centuries and the missing part was never rebuilt.
For years it is possible to climb the Dom Tower, now there is a new attraction, Dom Under. This historical attraction under the Dom Square is presented as an underground exploration of 2,000 years of history of Utrecht. It starts in Roman Times with the castellum Trajectum, the foundation of the city of Utrecht. Ofcourse the central theme is the big tornado in 1674. I was a bit disappointed by the Dom Under experience. The movies look professional and the idea of a discovery tour with torches is good. But unfortunately the story is incomprehensible: too many names, too many dates and too many difficult words. Storylines are started in the movie, but they never come back and that leaves the visitor with questions. That's a shame because it makes your visit no longer a discovery, but a struggle.
So my advice is: climb the Dom Tower and enjoy the view. Forget about the Dom Under experience and explore the Dom Square instead. Peek inside the church and enjoy the Dom Tuin (Dom Garden), one of the most overlooked places by tourists. It's an enclosed garden between de Dom Church and the Academiegebouw. You can enter it from the Dom Square. 
Originally it's the monastry garden and it dates around 1390-1440. The garden still contains herbs and medicinal plants. Nowadays it attracts students looking for a quiet place to read or have lunch. Though it's in the middle of city it's a peaceful an tranquil place. Then experience nowadays Utrecht: stroll along the old canals en feel the vivid history!