Cows eyes soup: dinner in Beijing China
July 3, 2015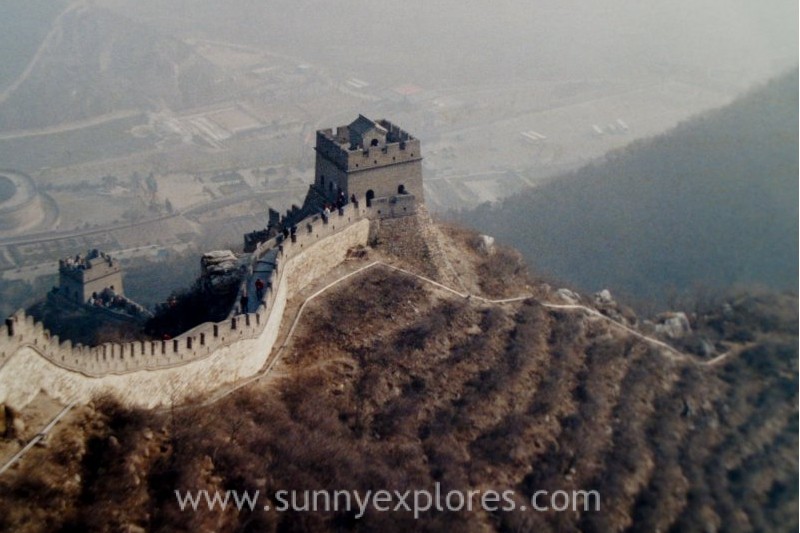 A bit worried, I stare into the large bowl before me. My soup smells of chlorine. But that's not the worst. Strange bluish bulbs are floating in it. I take one on my spoon and study it closer. That strange thing looks suspiciously like a cows eye.
I look at Brian, 'Are these cows eyes?'
Brian nods, 'I guess.'
We just met a few hours ago. And now we are having dinner in the living room of a Chinese family in the Hutongs of Beijing. Eating cows eyes soup. How did this happen, I wonder, while I move the eyes through the soup back and forth. I'm in China for only half a day.
Earlier that day I arrived at the airport in Beijing. I have traveled a lot, but I was not prepared for the culture shock. China is an assault on all my senses. Everything is different: the air is filled with the smell of herbs I don't know, I can't read the street signs, people don't speak English and they completely ignore foreigners. Finding a taxi is quite a challenge. In the hotel my check-in is a hilarious scene and I realize I will need a lot of Zen this trip. In the lobby, Brian and Mike, two British travellers watch my check-in with a big smile. 'We have been there', Mike says. They offer to show me around my first afternoon in Beijing so an hour later we walk into a shop in the antiques district Liulichang.
A young saleswoman is quite speechless when she sees us entering her store. Even I, with my 1.65, am one head taller than she. With her face turned to the ground, she tries to follow Brian with her eyes. Then she gathers courage. She shuffles towards me.
'Long? Him?' she whispers in broken English.
I ask Brian how tall he is and answer her, 'A bit less than two metres, 1. 98.'
She casts an admiring glance at Brian and hides between the racks filled with antiques. I want to buy a small statue of Buddah and we need calculators and cups of tea. I'm glad Brian and Mike are here for my first lesson haggling in China.
Silently, the girl approaches me again. 'Xia my name.'
I introduce her to Brian and Mike. And then she asks, totally unexpected, if we would like to have dinner with her and her parents.
My brand new travelcompagnons respond enthusiastic. They've been in China for a week now and were not able to interact with the Chinese. They stumbled against a wall of disinterest and a huge language barrier. We have to grab this opportunity, Mike assures me. So we leave the store with a receipt full of Chinese characters. Her address, at least that's what we think. That evening, Mike does not feel well and decides to stay in the hotel. And so it is just me and Brian at the table in Xia's house. With a big bowl of chlorine soup with cows eyes.
Xia looks at me expectantly.
'Wonderful,' I tell her.
'I'm a vegetarian,' I tell Brian.
'Eyes are not flesh.'
'No, organs,' I answer him. 'That's even worse. They give you scary brain diseases.'
Silently we take small spoons of chlorine soup. I carefully scoop around the cows eyes. Xia and her parents watch every movement of our spoons. They hardly eat anything, while I am more than happy to share the soup with them.
We do not succeed in keeping a conversation going with this hospitable family that doesn't speak English. Every few minutes Xia smiles and says; 'Welcome in house, nice dinner.' That's all the English she knows. Except for 'Michael Jackson' and 'Beijing biiiiiiig city'. Words she repeats every ten minutes with her ever friendly smile.
I dare not looking at Brian, afraid that I have to laugh at the absurdity of our situation.
'Do you also have proverbs in the UK?' I ask.
'Yes, a bird in the hand is worth two in the bush, that sort of things. Why?'
'Well, I just made one up: better 10 cows eyes in your soup than one in your mouth.'
We listen how Xia's father noisy chews a cows eye. I shiver.
'We also say look before you leap,' laughs Brian. 'Here in China we could say look before you eat.' He almost lets a slippery eye escape from his spoon. And in my mind I see us trying to catch the eye that bounces around.
We invent new proverbs while we work our way through the soup. I am very careful not to touch the eyes. I have a mountain of cows eyes on the bottom of my bowl. But I manage to finish the soup.
To my relief, Xia's mother takes my bowl to the kitchen.
'Are you sick?' Brian asks.  'You look so worried?'
'I'm thinking about desert.'
Xia places another bowl in front of me, even bigger than the first. Somewhat suspicious Brian and I look into it.
Same soup. Same cows eyes. Brian also gets a new bowl, even fuller than mine.
'I really thought I told her clearly that we loved the meal, but had enough,' he sighs.
'Maybe your Chinese isn't as good as you think,' I suggest.
After we somehow manage to finish our second bowl, Xia proudly presents desert.
I lift the lid.
'And?' Brian asks.
'Fried insects. Lots of fried insects.'