Diving the cenotes in Yucatán Mexico: El Pit Cenote
April 22, 2019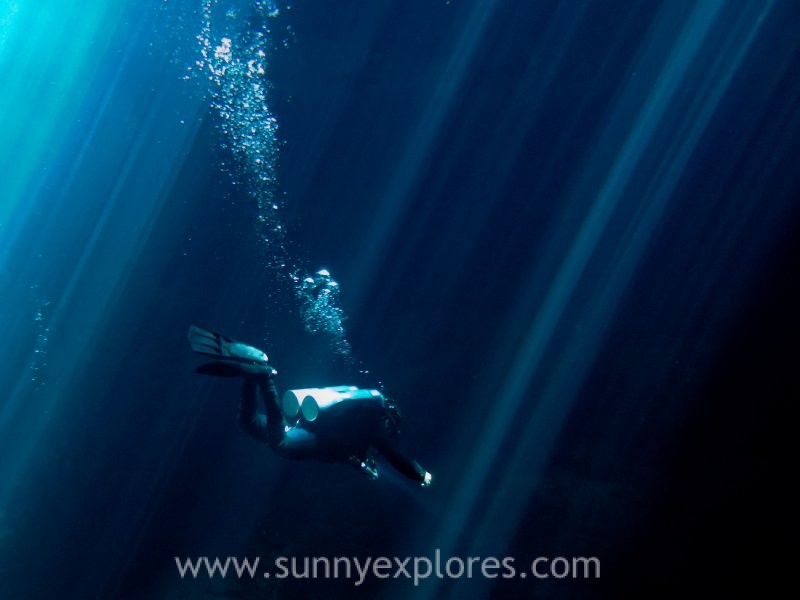 El Pit Cenote is famous and for a reason: the beautiful light beams that light up this deep cavern dive are one of the most magical experiences you will ever have! While Casa Cenote and Cenote Aktun Ha were mainly green under water, El Pit surprises you with all shades of blue you can imagen.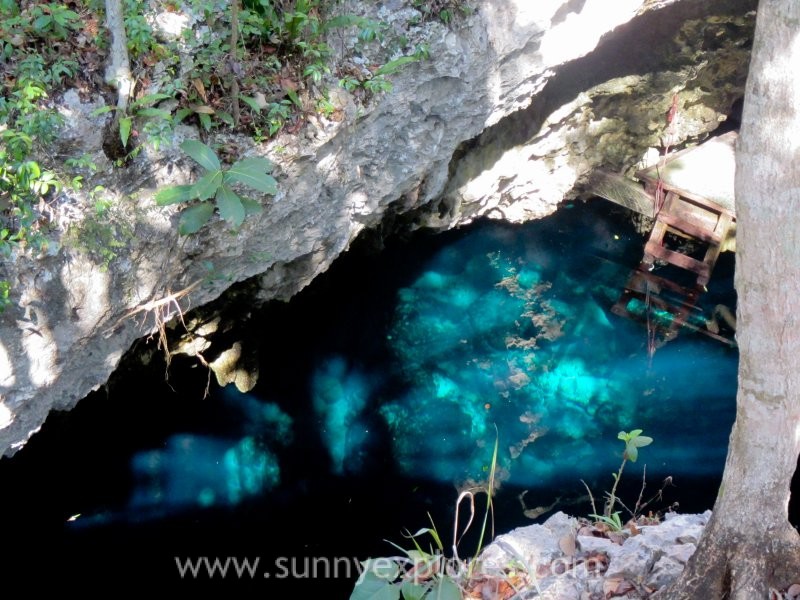 At the surface, there is a 10-meter oval-shaped opening that opens up to a much larger cylindrical cavern. At the surface, there is an overhang with some stalactites clinging to the ceiling. The water is so clear that even at 5 meters depth you can see the trees around the cenote when you look above you. At 10 meters the pit opens up to a further overhung cavern. There are so many large stalactites to see here. But to be honest: I had hardly time to enjoy the beautidul rockformations, I was so enchanted by the light beams. The sunlight dances in the clear blue water and turns the cavern in a light show. The water is so crystal clear that the sun light reaches all the way to the bottom at around 40 meters depth, so you can see the light reflect above you as well as under you.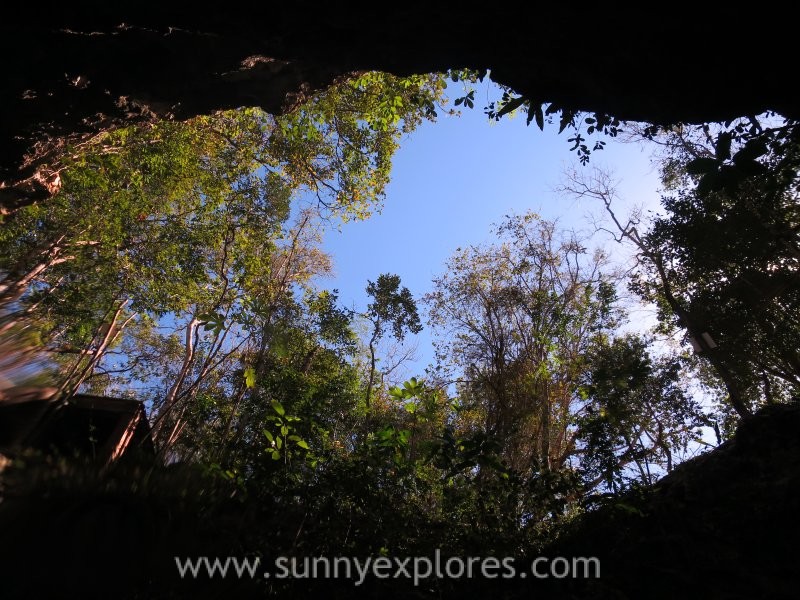 I especially loved the light at around 12 meters depth. When you go deeper the fresh and salt water mix. Till 10 to 12 meters the water is fresh water and then there is a mixed layer of fresh and salt water. Below 12 meters the water is salt. At the point where the fresh and salt waters meet, the visibility and light beams are changing. The water appears a bit blurry because of the way the light refracts in the two different waters and that is a stunning sight.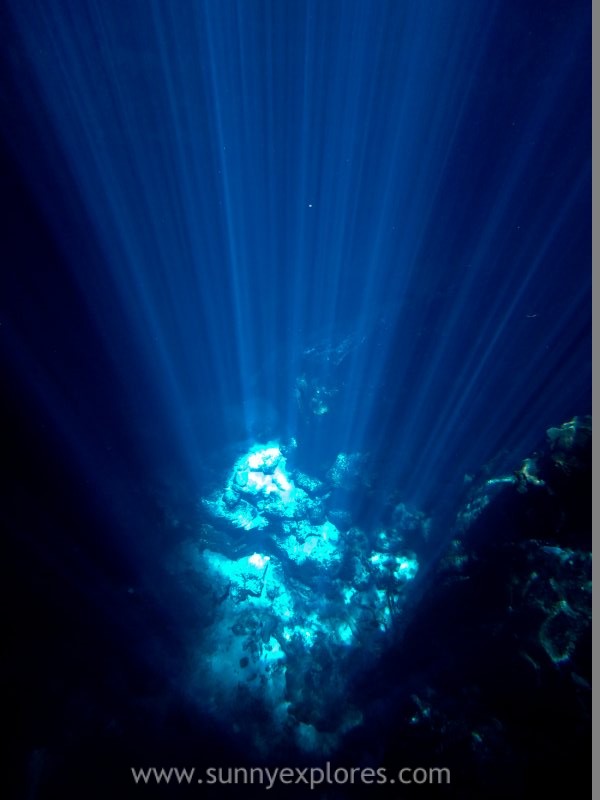 Around 27 meters depth there is a hydrogen sulfide layer. Toward the bottom of El Pit Cenote, there is a cloudy layer that almost looks like you are diving through the fog. This is a natural phenomenon is called the halicon layer and it's made of hydrogen sulfide suspend in the water. This layer is around 2 till 4 meters thick. At the bottom of the cenote you can see rocks from the collapsed cenote-opening. The acid layer covers the tops of the rock pile and on top of the rocks, there are some tree branches hanging in the fog, which has a bit of a mystical effect.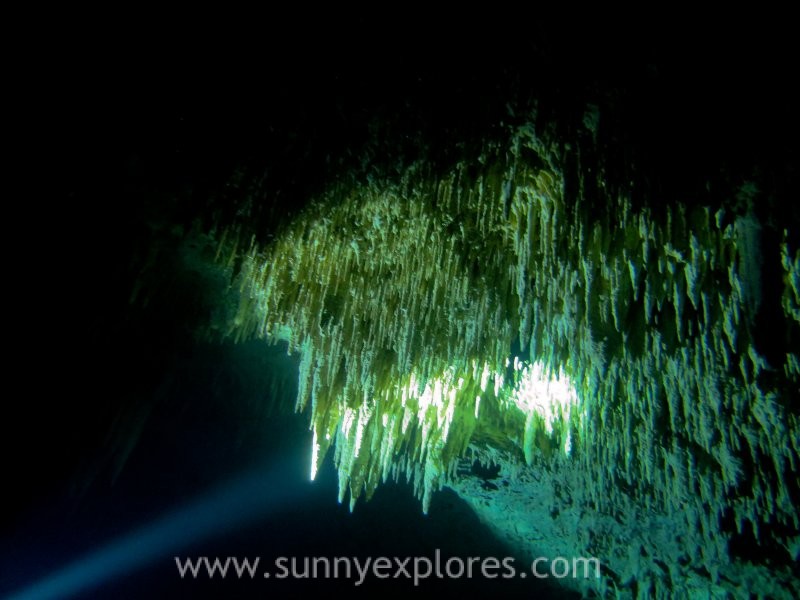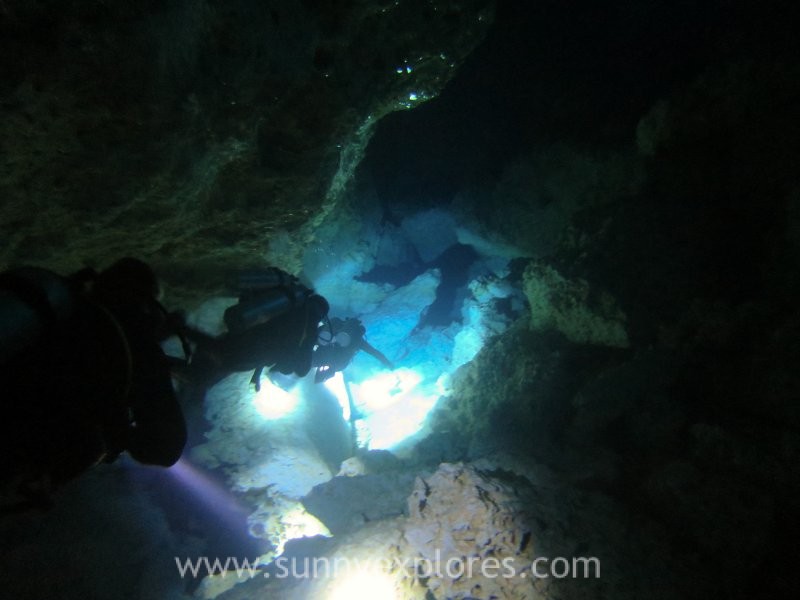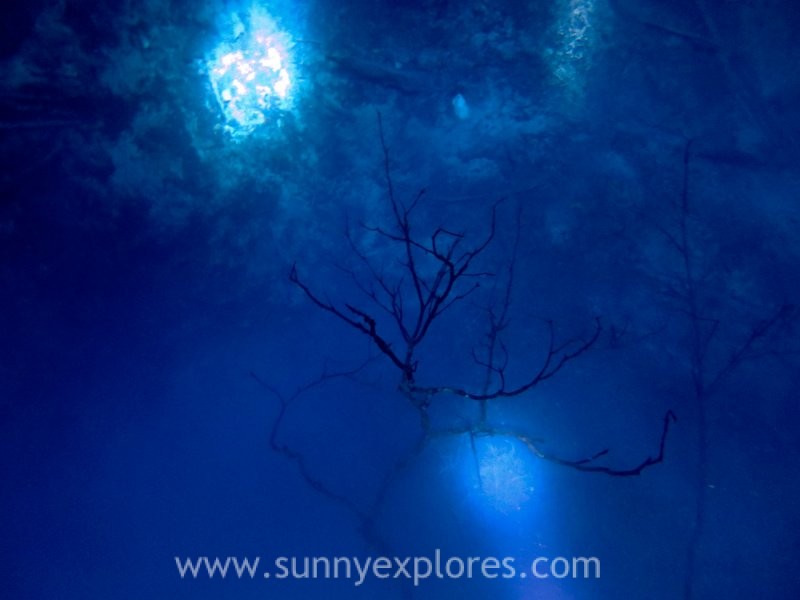 You will start this dive deep and work your way up in circles, so you can enjoy the stunning light and all shades of blue from all angles. It's pure magic. I couldn't stop taking photos and I was so disappointed when our dive had ended and I had to leave this fairytale world. And I have to admit, my photos don't do justice to El Pit's beauty!