A roadtrip in the Netherlands: hunebed highway
April 24, 2019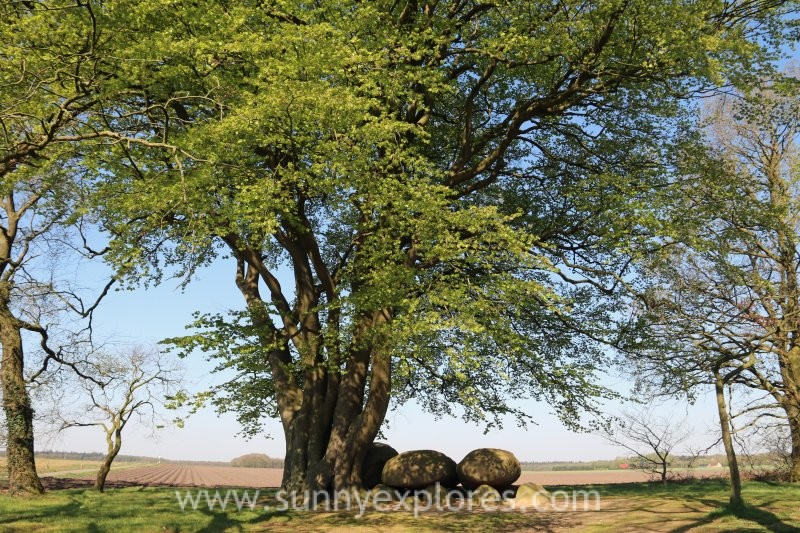 Hunebeds are impressive neolithic tombs. These prehistorical burial monuments are made of large boulders and they were built between 3400 and 3100 BC with wooden or stone tools and without machines. Hunebeds are located on powerful places in nature and they speak to the imagination.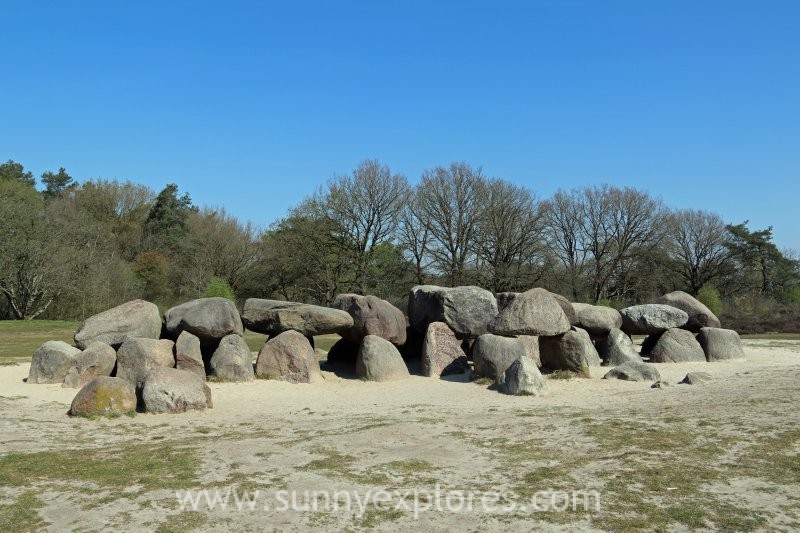 I was very busy both at work and in my private life. So when I had 4 days off for Easter, I came up with a project for some distraction and to make new memories. A road trip through my own country, in search of all 54 hunebeds, the Dutch megalithic monuments. I loaded my dogs and cameras in the car and left for Drenthe, the province where all but two Dutch hunebeds are situated.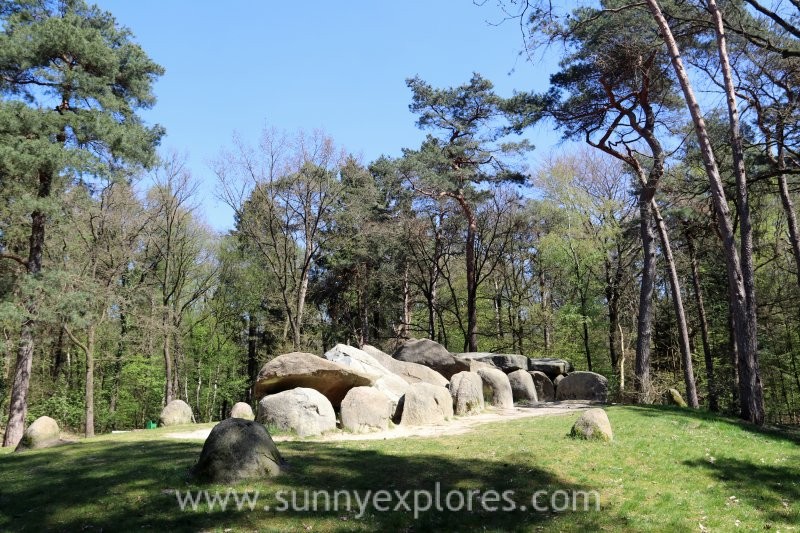 Megaliths are prehistoric monuments. They are found in north western Europe and were mainly built between 4000-3500 and 2500 BC. The Dutch hunebeds were built between 3400 and 3200 BC by people from the Funnel Beaker Culture. They were the first generations of farmers. This early farming culture extended across the north eastern part of the Netherlands, the north of Germany, Denmark, the south of Sweden and large parts of Poland. The people from the Funnel Beaker Culture were the first to leave life as a hunter and collector in this region and settled in a permanent place. They lived in mud farms, handled wooden and stone tools, and thus made pots to store supplies. They got their name from these pots, the funnel beakers.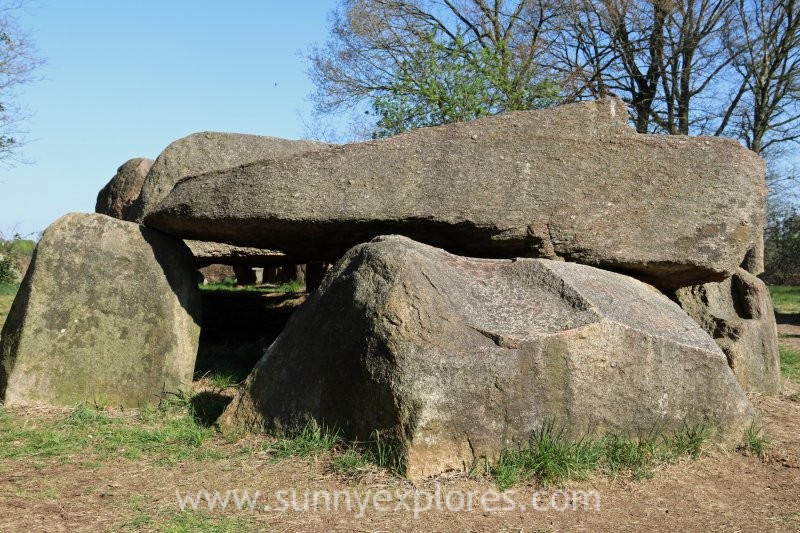 We know almost nothing about these first farmers because they didn't know the script yet. But they did leave us their monuments, called hunebeds. How these people have been able to get stones off the ground without machines is still not entirely clear. The boulders sometimes weigh up to 20,000 kilos. They probably made a 'driveway' of land, and used round logs to make the stone roll over it. When the stones were in place, the soil underneath was dug away, creating a burial chamber.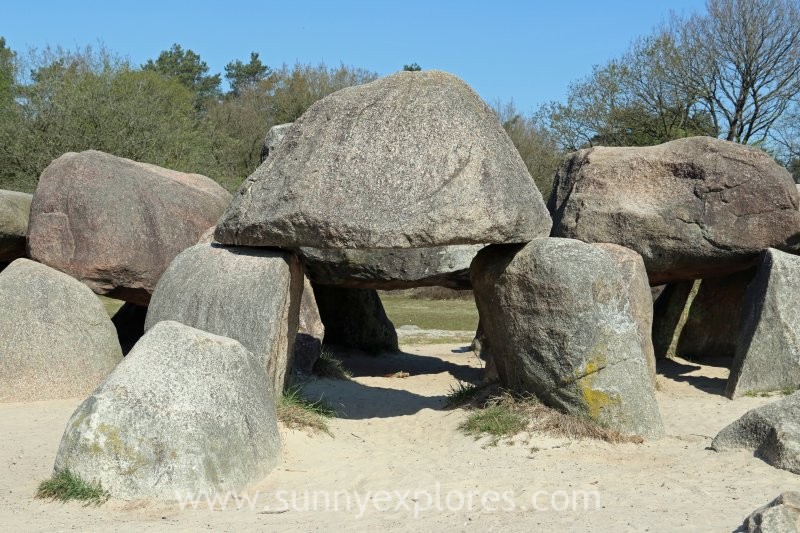 52 hunebeds have been preserved in Drenthe, and two more in the Dutch province Groningen. There must have been many more, but many hunebeds have disappeared over the centuries. The stones were re-used as building material for roads and houses. Originally the hunebeds were protected by a cover hill or tumulus of earth, sand and boulders, which reached the top of the supporting stones. A hunebed was probably a grave for the elite. But the large stone monuments had more functions than the worship of ancestors. They strengthened the identity and sense of community of those who built them.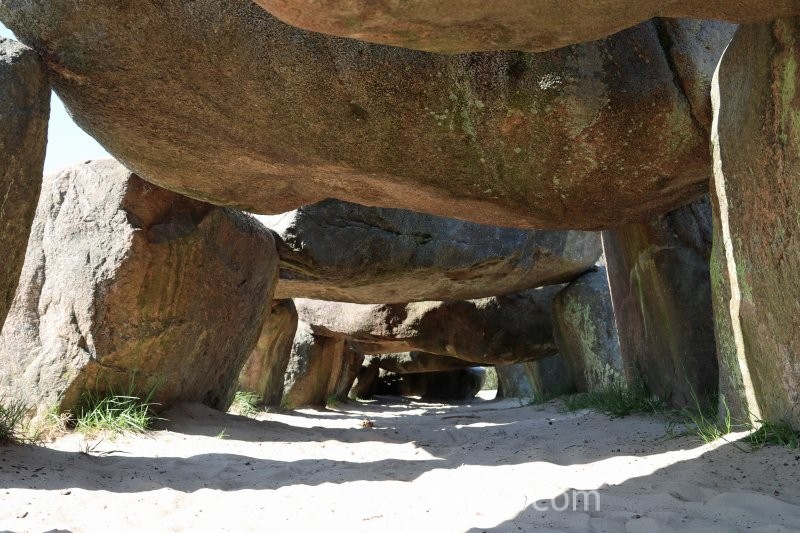 The condition of the hunebeds is very diverse, some are still fairly good, others have fallen into cairns. A search for all Dutch hunebeds in a weekend was a challenge: it took me two long days from 8:00 till 20:00 to find, examen and photograph them all. Some hunebeds are difficult to locate, others ask for quite a walk. Fortunately, most hunebeds are situated beautifully in nature in Drenthe, so there is plenty to enjoy along the way. If you want to go on a quest for the Dutch hunebeds, you need a car and a good map. To find some of them, you have to drive grass paths, sandy roads or bumpy, rocky roads through the forest. However, if you only want to see a few to get an impression of these megaliths, go to the Borger area. Here you will not only find D27, the largest Dutch hunebed, but here are also no less than 11 hunebeds in a radius of only 5 kilometers.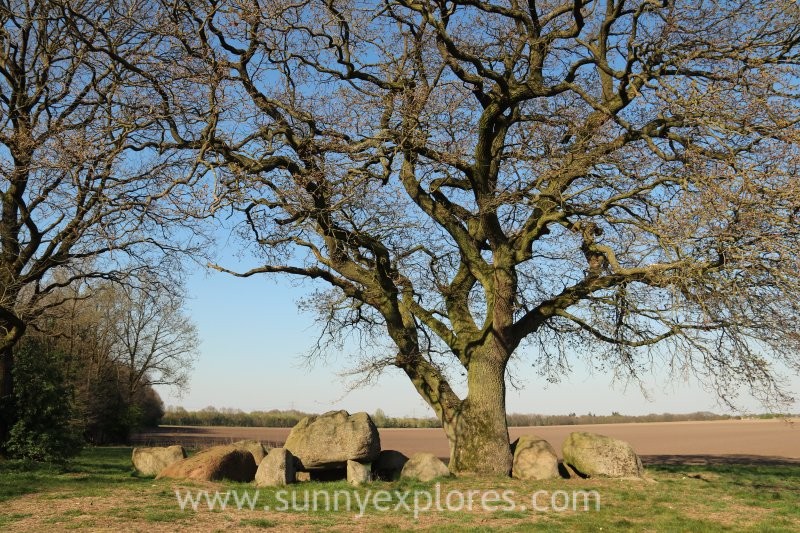 You can take the N34, also called hunebed highway. Don't expect it to lead you directly to the hunebeds: it will take some searching. I specially liked D11 and D13. They are located in powerful places and here I met a real druid who shared stories with me about the power of the stones, here in the Netherlands, but also in Stonehenge and Avebury. It was quite special how this man popped up again and again out of the blue at all the hunebeds I visited around Anloo and Eext. D16 is also rare, especially how this monument is embedded in an environment with burial mounds from the Iron Age and Bronze Age. The dolmens D38, 39 and 40 are close to each other in the Valtherbos, a wonderful walking area. If you want to see a rather complete hunebed, go to D50 on the edge of Noord-Sleen. This hunebed is large, fairly complete and still has a large number of wreath stones. But alle hunebeds are all worth visiting: they immerse you into history.