Swimming with wild dolphins in Bimini Bahamas
July 17, 2015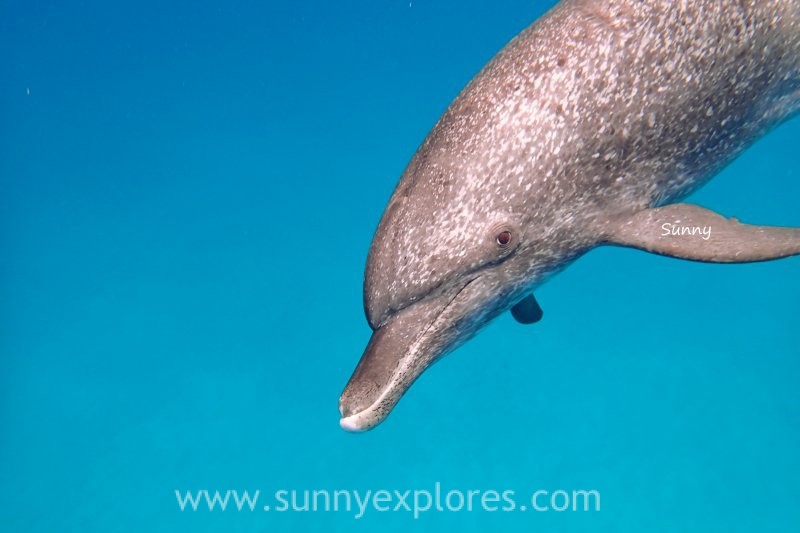 Bimini is one of the best places to swim with dolphins in the wild. All ingredients for a time of pure bliss are available; dolphins willing to connect closely, a warm sapphire sea and amazing sunrises.
Bimini is the most western district of the Bahamas. It consists of a group of three islands, North Bimini, South Bimini and East Bimini, about 80 kilometres due east of Miami Beach. In Taino, the language spoken by the Indians of the Caribbean, Bimini means 'Mother of the Water'. The islands are small and there is not much to see or do to spend a whole week there, except for dolphin magic!
The dolphins in Bimini look different than other dolphins I have seen. These large dolphins are Atlantic Spotted Dolphins and I feel surrounded by 101 Dalmatians in dolphin shape! Their interaction with swimmers also differs from what I'm used to. The Springer Dolphins I met several times in Egypt and Hawaii have an active and playful energy. If you swim towards them, they accept you as part of their pod immediately. Play consists of very hard swim laps and trying to catch found items like leaves and plastic. It is what we call 'the leave game': dolphins carry leaves in their mouth or on their fins. Proudly they show you their toys. Then they let go of the toy for you to catch it. And when you own the toy, the dolphin game is to get it back!
Interaction with the Atlantic Spotted has a different energy. Once you swim towards them, they disappear into the depths of the ocean. They only come to you on their own terms. Their energy is less exuberant and boisterous than the Spinners energy. Instead, the Spotted Dolphins pay more attention to you and sometimes even quickly touch you. If you are floating quietly in the water, they will swim next to you. They turn their heads to look you in the eye. They are so close that you have to squint to be able to look back. This is real eye contact: the dolphin is looking into your soul.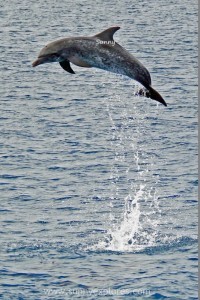 No wild games with the Atlantic Spotted but soft connection and touches. At first I couldn't believe what happened. I was quite forcefully rammed by a large male. He pushed his muzzle against a spot just above my midriff. It did not feel threatening, but not too friendly either. Immediately he turned around and did the same, much softer this time. Only when he pushed me for the third time in the same way and in the same place, I realized that he touched my heart chakra. After this last touch he rubbed his long body against mine. With his nose against my ear he whispered his clicks. Pure magic! This unbelievable moment makes Bimini unforgettable to me.
There are several operators providing dolphin encounters around Bimini. Each of them has his own way of working. You can stay on land and go out to the dolphins every day. Maybe a land based stay is more comfortable, but you are missing out a lot of dolphin time this way. Other operators offer liveaboards. But also here: make sure you know what to expect. Some boats have you hang on large ropes behind the sailing boat. Sure, the dolphins will swim along, but forget a relaxing holiday because this way physically demanding. So when you decide to go to Bimini, do some research in advance wich compagny fitts you best.