Embarking on a live aboard to the Deep South of the Red Sea in Egypt
April 7, 2017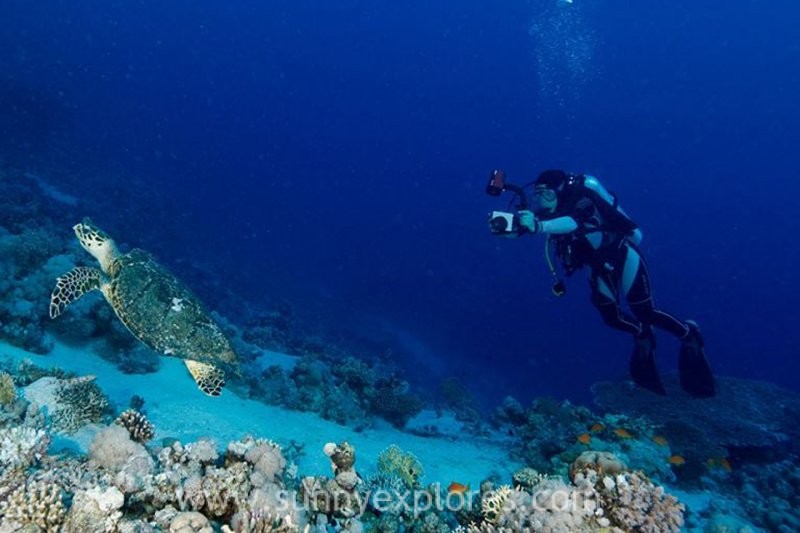 Picture: Eleuterio Valido
I just came home from a live aboard in the Red Sea in Egypt. I embarked on MY Galaxy, the most luxurious boat I have ever seen. I travelled to the Deep South of the Red Sea in Egypt to dive world famous sites as the Brothers, Deadalus en Elphinstone. It's the same route I did last september, but my experience was totally different, on the boat as well as in the water. This time the whole trip was managed perfectly and there was a lot of attention for safe diving. My dives can't be compared with the dives I did last september. Then it was mad shark diving. We were all the time out in the blue in strong currents surrounded by many sharks. It was literaly sharks everywhere. This time the currents were also strong, but better to manage. There where not many sharks this time, which made the dives not as spectacular as they were in september 2016. This gave me the chance to explore the reefs and enjoy the abundant colours of pristine corals. The group of divers was small and everyone acted responsible. The boat crew was friendly and helpful and the zodiac drivers were amazing, which made this trip with MY Galaxy a pleasant experience of dive- eat- sleep-repeat.
The MY Galaxy itinerary:
Gota Abu Ramada, Hurghada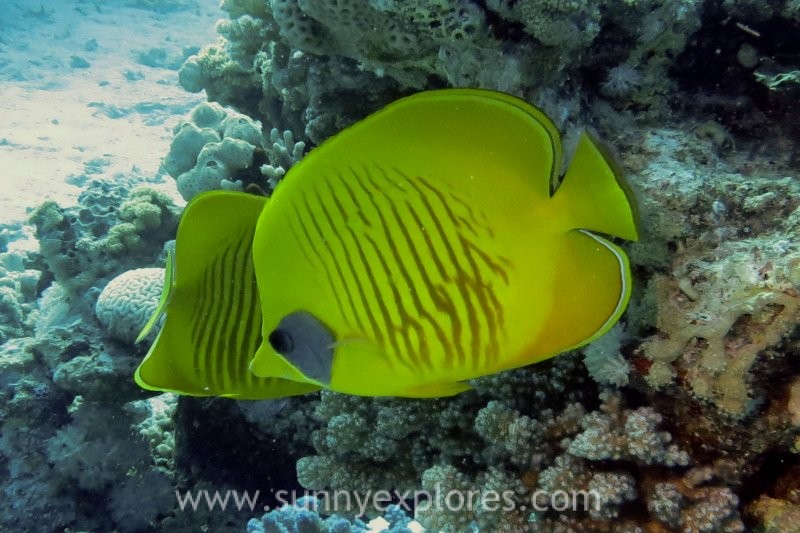 The live aboard trip started and ended in Hurghada, so we also had a chance to dive some sites there. Gota Abu Ramada is a calm, friendly place to dive. It was my first time diving Gota since I did my very first open water dives in this site. This reef is surrounded by a sandy area full of coral gardens. On both sides of the reef there are coral pinnacles full of marine life, with many yellow goatfish, barracudas and morays.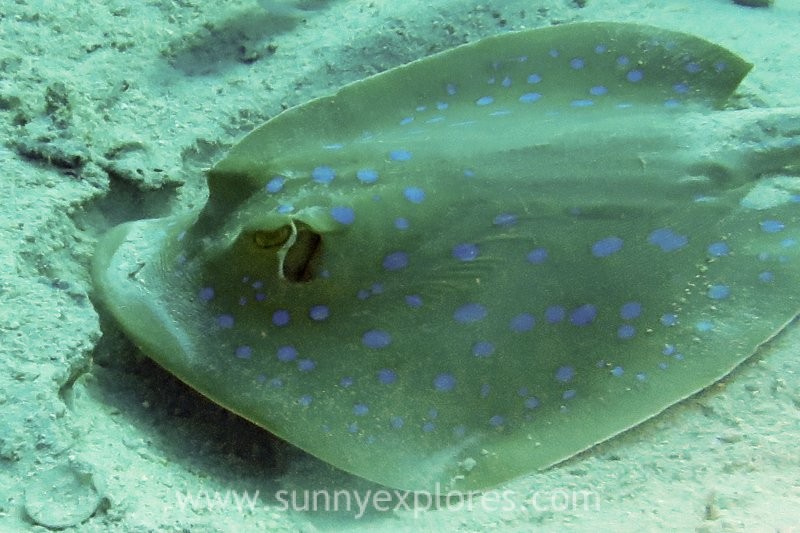 The Brother Islands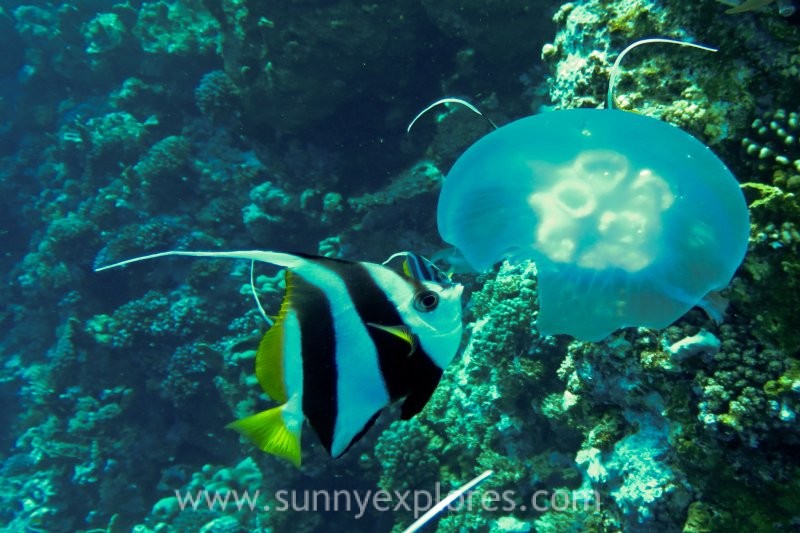 The Brother Islands are world famous for their pristine coral and frequent shark encounters. For my the curious oceanics made my dives in Brothers last september memorable. It's truly unforgettable how close they came. This time we saw a single shark passing by, which made diving here a totally different experience. Last time it was shark time out in the blue. This time I actually got to see how beautiful the dive sites are. The reef life is impressive. Little Brother has some amazing walls covered by hard and soft coral. Big Brother has a lot of fish, and then I mean really a lot of fish. The current was more friendly this visit and the visibilty was great: so I actually got to see the Numidia and Aida wrecks. The Numidia sank in 1901. During her second voyage, she hit the Big Brother Island. The wreck now lies vertically on the reef, broken into two pieces at the depth of 10 to 85 metres. The Aida crashed against the reef in 1957 during heavy storms. All crew members were saved, but the ship floated away before finally sinking. The wreck lies between 30 and 60 metres deep.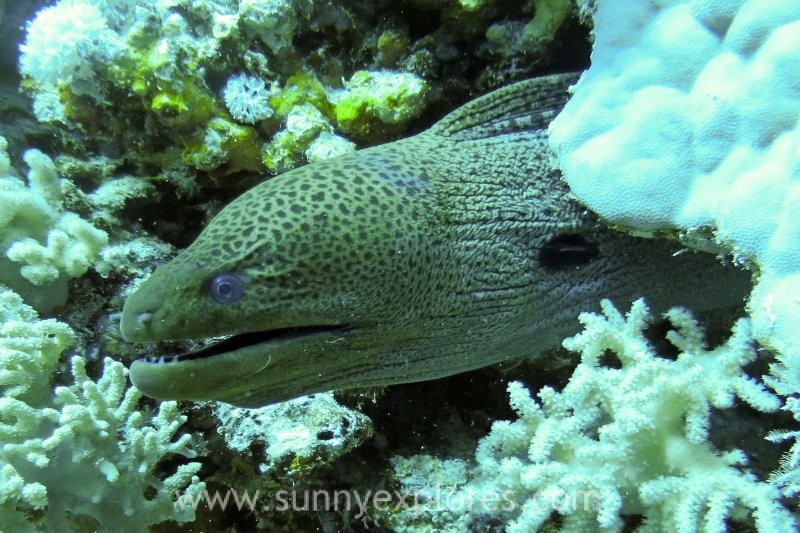 Daedalus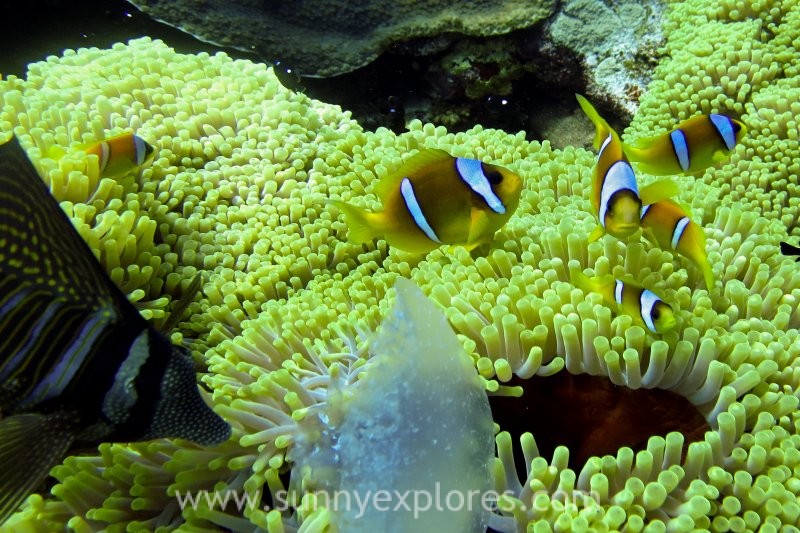 Deadalus is located around 80 kilometres east of Marsa Alam halfway between Saudi Arabia and Egypt. Strong currents along the steep walls and winds can cause tidal waves and the combination with surface waves make it a dive place for advanced divers only. However, the incredible action below the surface will make you forget these difficult conditions once you get under water. Daedalus is an amazing dive site with pristine hard and soft coral and a vivid marine life. My last dive here in september 2016 can't be beaten: in one dive I saw many oceanic white tips, schooling hammerheads, grey reef sharks and silvertips. Even a very rare treasure shark passed by. This time there were not many sharks which gave me the opportunity to explore the deep walls covered by coral. Even when you don't see any sharks, this dive site will not dissappoint you. I spent most of my time around the westside of the reef and I discovered Anemone City. An amazing place I didn't even see last times I was here. For me this wall covered with a huge concentration of anemones and clownfish was the highlight of this weeks diving. What a sight!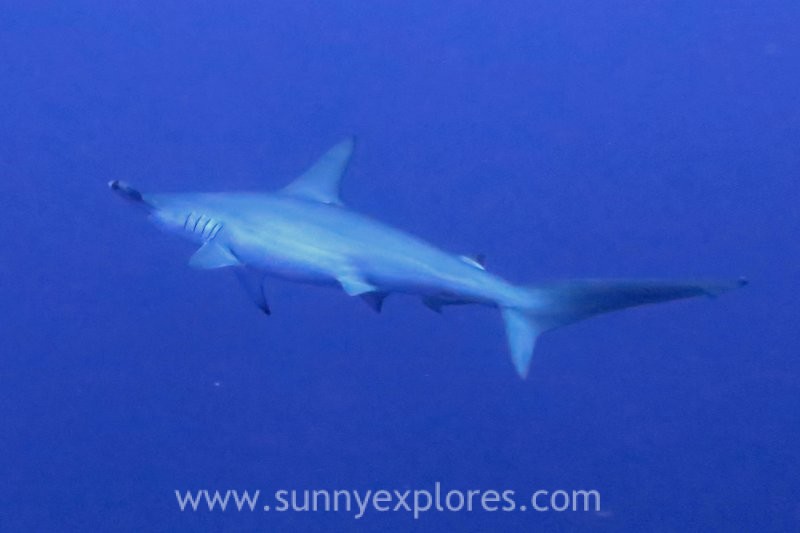 Elphinstone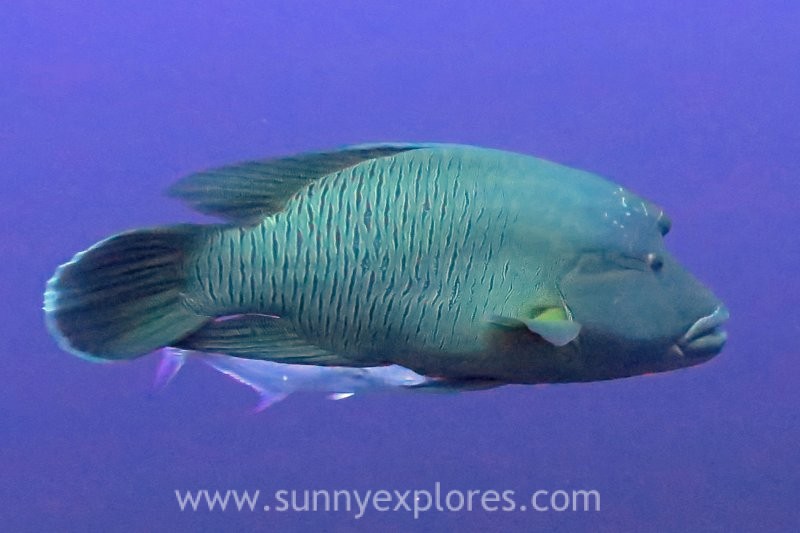 Also Elphinstone is famous for the frequent shark encounters. But for me it's more connected with Napoleons. My first dive here, a few years ago I encountered a Napoleon Wrasse much bigger than me. Also this time we saw some Napoleons. In Elphinstone you are diving in the open sea and the current can be very strong, so diving Elphinstone reef is reserved to experienced divers only. But it's a beautiful spot, so book your advanced course and dive this site!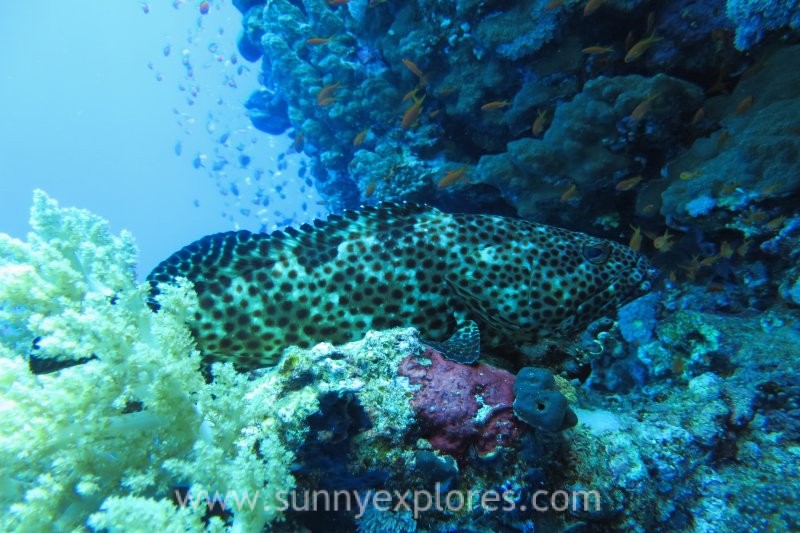 Marsa Torombi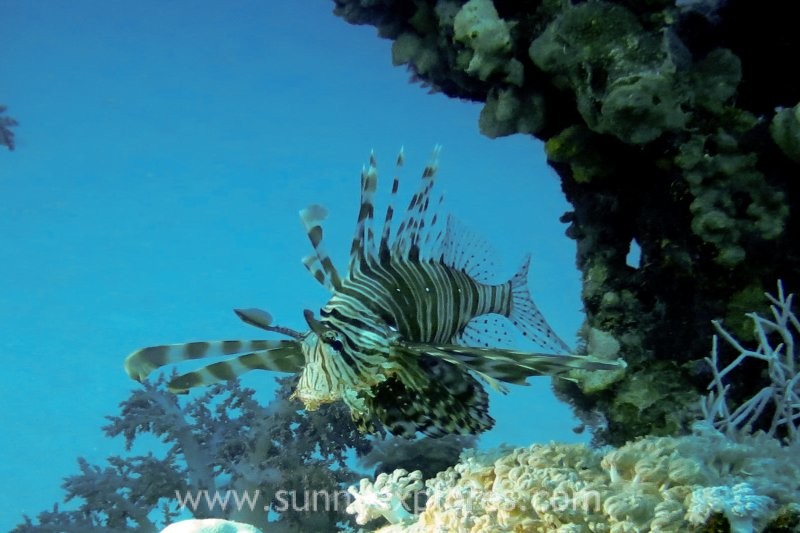 Marsa Torombi is a dive site just over one hour north of Port Ghalib. I can only be reached by boat and only in good weather conditions. Marsa Torombi was a new dive site for me. I was imperessed by the rich marine life. We saw moray eels, blue-spotted stingrays, triggerfish and so much more. Torombi has two different reefs. The north side has many corals, moray eels and blue spotted stingrays. The more shallow south side is full of fish and shows some beautiful table corals.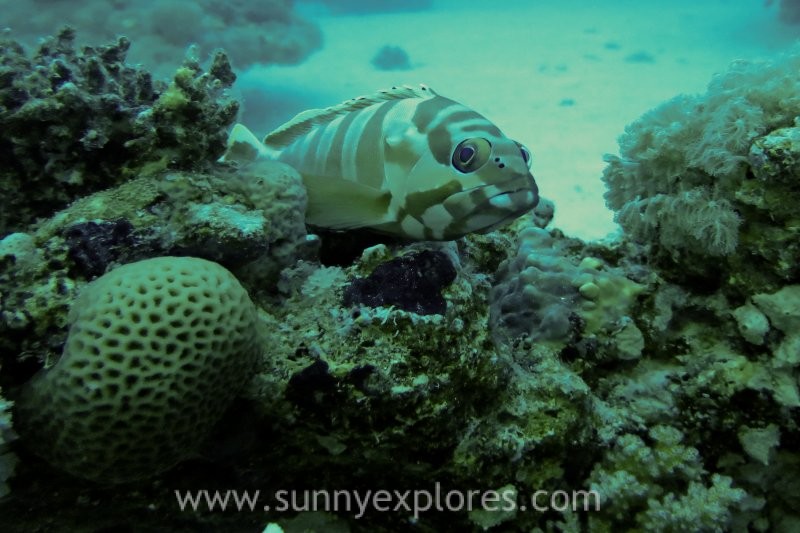 Small Giftun Island, Hurghada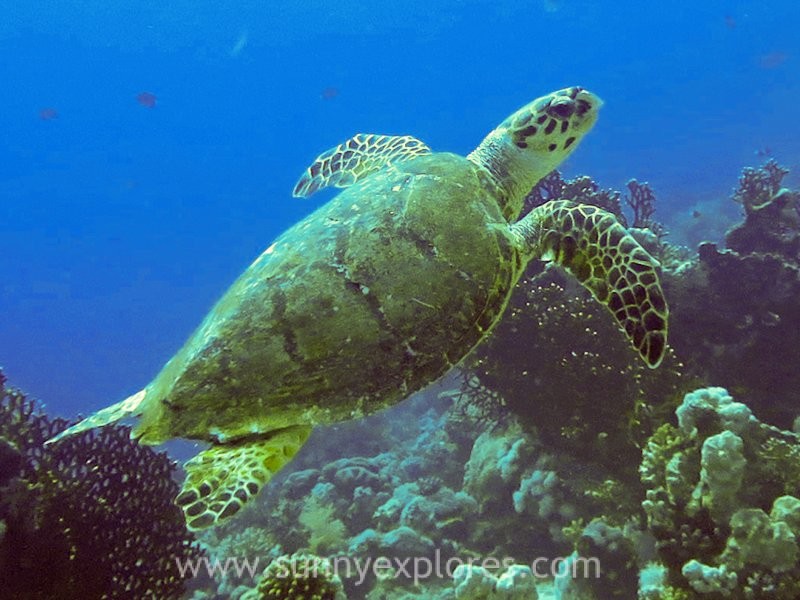 Our last dives where around Small Giftun Island, which is also called the Police Station. Giftun area has been a marine reserve for a few years now and in my opinion it's one of the best dives around Hurghada. Downside for this is that it can be crowded with boats, snorklers and divers. But don't skip this dive site for this reason. It's a must dive. A coral covered wall drops to around 100 metres depth. So you can choose your own depth and level and enjoy the abundant marine life. I specially liked the for me typical redsea view: coral walls covered with orange fish. Red Sea magic in it's purest form!