Exploring the Amsterdamse Waterleiding Duinen in The Netherlands: a photo essay
June 18, 2015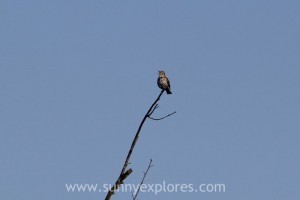 The Amsterdamse Waterleiding Duinen is a dune area between Zandvoort (North-Holland) and the Langevelderslag in Noordwijk (South Holland). This area is designed for the extraction of drinking water for the city of Amsterdam. Annually there flows fifty million cubic meters of drinking water by this 3400 acre. Water is extracted since 1853, making it the oldest spillway in the Netherlands. The dunes are owned by Waternet, but the Waterleiding Duinen are open for public as well. Even though it's rather close to big cities as Amsterdam and Haarlem, here you find peace and silence, space and nature.
What makes the Waterleiding Duinen a populair hiking area is the presence of fallow-dears, foxes and many species of birds. Also the natural variety is attractive: you hike through dunes, groves and you can even walk to the North Sea coast.
My hiking tip: start your hike at the entrance in Vogelenzang. Walk right trough till you see water. Go left and follow the irrigation canals in the direction of the sea. It's about a six kilometres walk and it takes you along varied grounds: sand dunes but also beautiful green strips of land. During this hike you have a chance to meet foxes. The foxes used to be fed by visitors so they are fairly tame. To see foxes, you need some luck, seeing deers is guaranteed. Don't forget to listen to the beautiful birdsongs. Then it's time to climb (and descend) a high dune to reach the beach. It is quite a hike: but you get to see many sides of Dutch nature!