Diving in the Red Sea: Dahab South in Egypt
July 28, 2016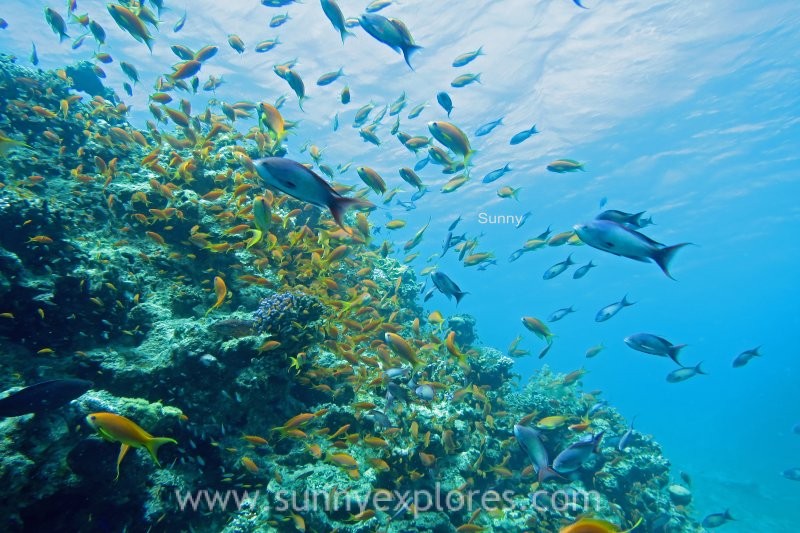 Dahab South is a twenty minute car drive from the village Dahab in the South Sinai in Egypt. 'South'-as the Dahabians called it- is a nice place to sit, relax and enjoy the stunning Red Sea view. You'll have an amazingly blue sea in front of you and mountains in your back. Dahab South has some great dives sites, so you can spend at least two diving days here. My tip: use the Dolphens Cafe as your base and enjoy a great lunch.
Caves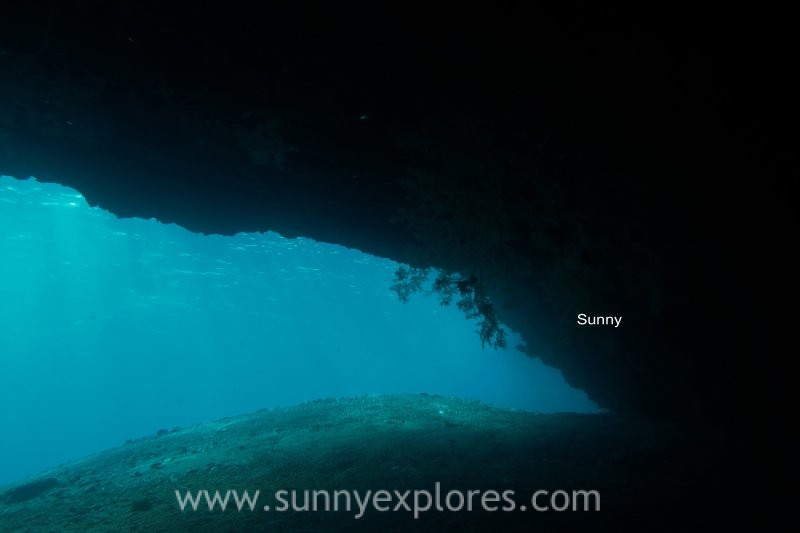 The Caves is a popular dive site in Dahab South. Actually the caves are not really caves but caverns. They have eroded back underneath the shoreline underwater. This site gives you a good idea of what it feels like to be in a cave under water without the risks involving. Rays of sunlight sparkling into the caves give this dive some kind of magic. And don't forget to look at the beautiful red anemone on the southern side of the reef.
Moray Garden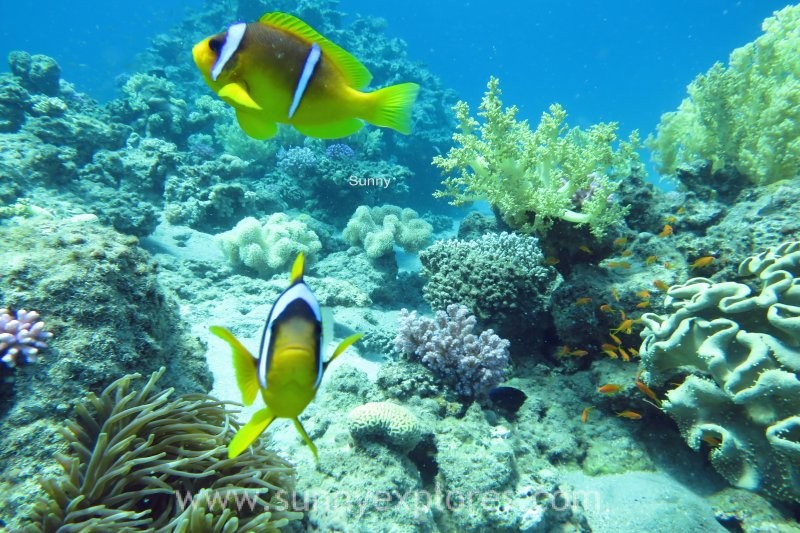 Moray Garden might be the best known dive site in Dahab South. At the entry and exit point you have a sandy slope from where you can go either right or left or do drift dives to Golden Blocks or to Three Pools. On the right side you will find a coral garden with a small wall dropping off to 50 metres. Look out for morays, nudibranchs and scorpionfish. Following the coral slope you will pass a glassfish pinnacle at about 22 metres.
Three Pools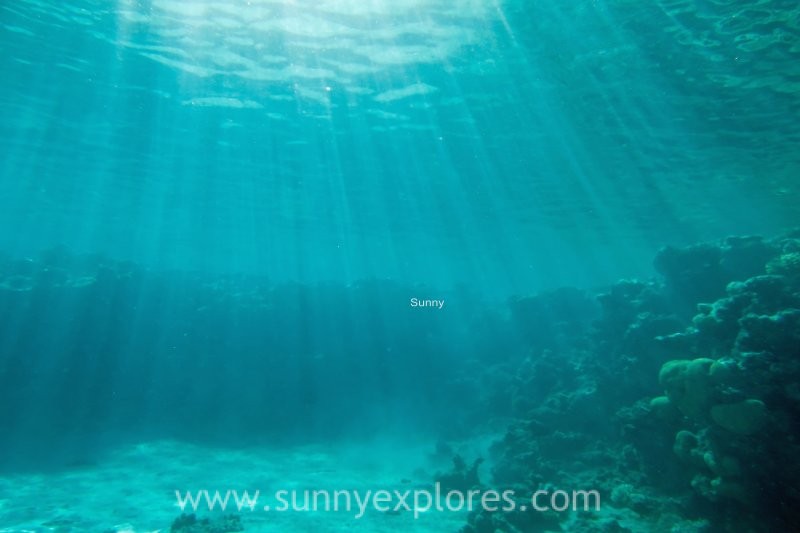 This dive site has three natural pools with a sandy bottum. It's not a really spectacular dive site but it's fun to swim through the pools. And the sunlight shines beautiful in this rather undeep water. High tide makes it easier to pass through one pool to another. The third pool is the biggest one and after this you end up in open water. You have a good chance to see Napoleon wrasse here.
Golden Blocks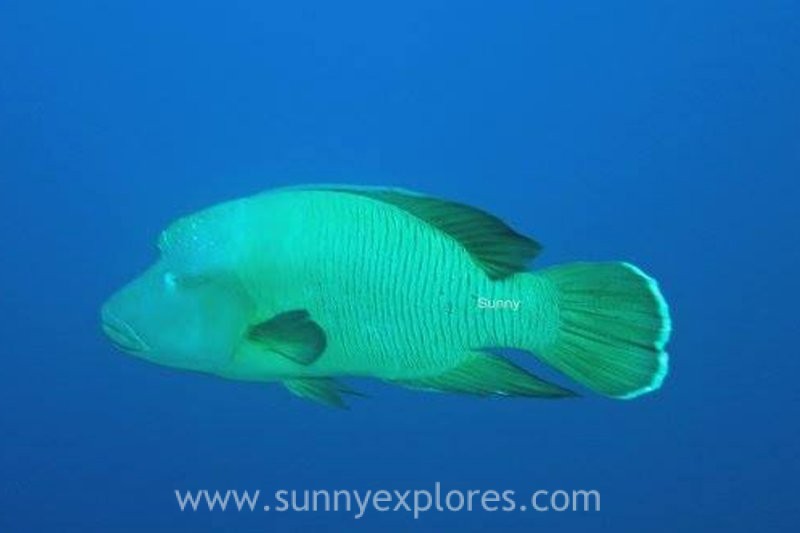 Golden Blocks is named after a large golden pinnacle close to the entry. This dive site has a coral slope with three sandy alleys. It's a mix between sandy areas and coral gardens. The Golden Blocks are large coral blocks that are covered with anthias. You can look for almost all coral species here. My last dive here I spent almost an hour waiting for a hiding octopus to appear.
Um Sidd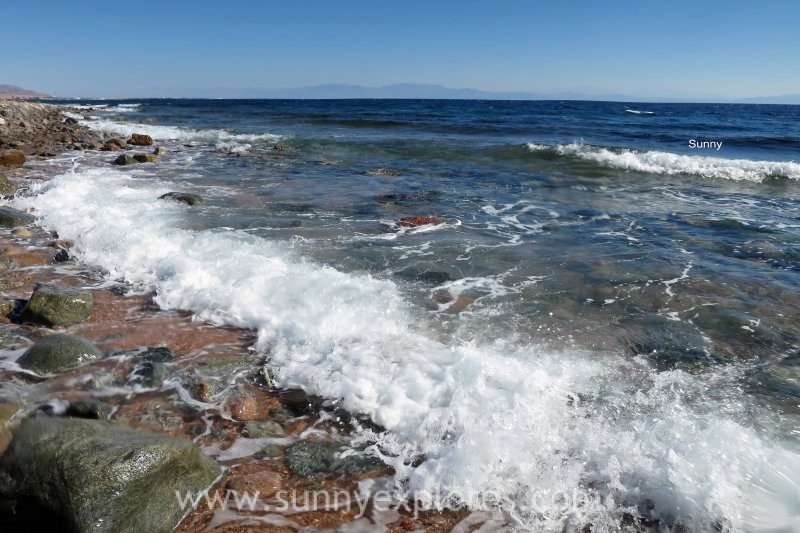 The entry to this dive site is through a wide corridor carved into a steeply sloping reef. The reef drops down to a sandy slope with garden eels. Check for blue spotted rays here and with some luck you even may see eagle rays. Follow the slope down into a beautiful coral garden. Advanced divers can descend to 30 metres and view the spectacular giant gorgonians.
Beside these dive sites in Dahab South, the village Dahab offers many more great diving possibilities, like the famous Blue Hole. In these previous blogposts you can read more about Dahab's famous dive sites: Diving in Dahab: 6 dive sites not to miss and Diving in Dahab: 6 dive sites not to miss part 2. Enjoy your dives!