8 places to see on Santra Cruz Galapagos Ecuador
July 21, 2016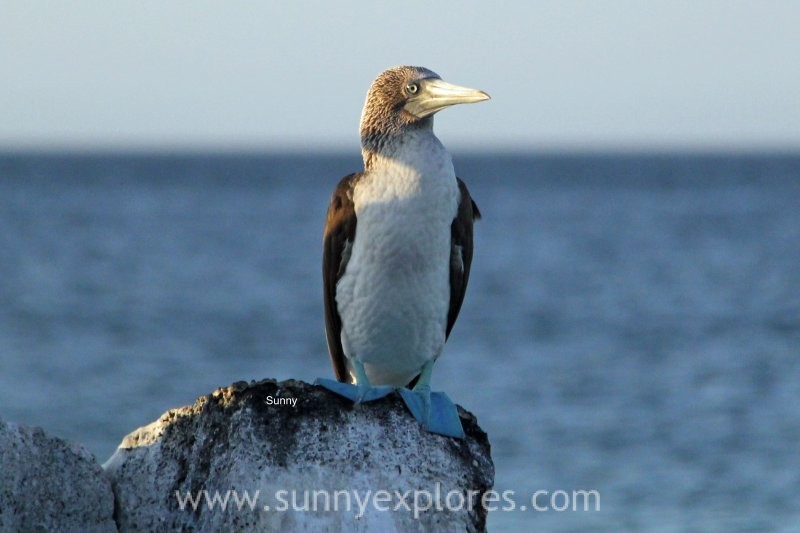 Santa Cruz is the second largest island of the Galapagos Archipel. It's capital is Puerto Ayora, the most populated urban centre in the islands. Beside Puerto Ayora Santa Cruz has some small villages, whose inhabitants work in agriculture and cattle raising. The entire island is a large dormant volcano. It is estimated that the last eruptions occurred around a million and a half years ago. When you visit the Galapagos Islands take your time for Santa Cruz, there is a lot to see and do here.
Tortuga Bay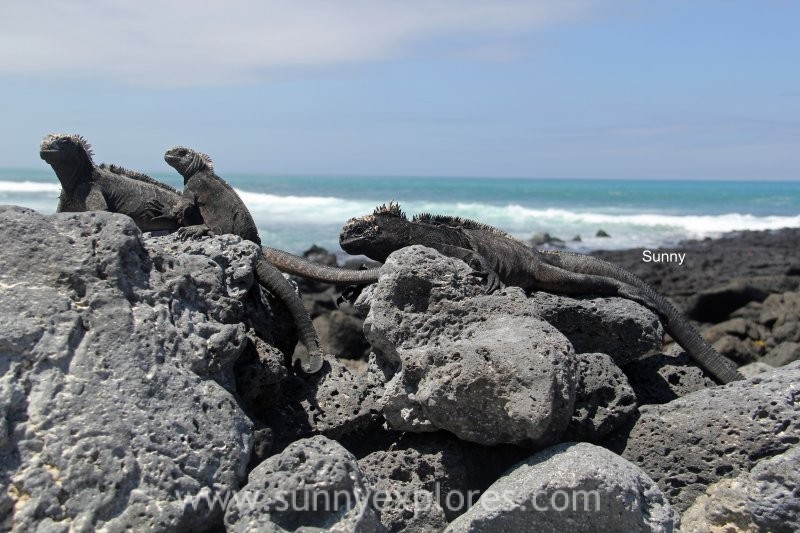 Visiting Tortuga Bay means a challenging hike in a warm and humid climate. But it's worth the effort. Tortuga Bay has a gigantic, perfectly preserved beach that is forbidden to swimmers and is preserved for the endemic wildlife. Here you can see marine iguanas in their natural habitat. Watching these little dragons swim by moving their tails is just great. There is a cove where swimming is allowed. You have a good change to see white tip reef sharks here.
Puerto Ayora

Puerto Ayora is the largest town of the Galapagos Islands. It's a good place for souvenir shopping. There are plenty of shops with handcrafts from local artists. Many of them turn waste into art. My favorite place in Puerto Ayora is the fish market. You will forget time when you watch the pelicans and sea lions trying to steal the fishermens fish. Eventhough Puerto Ayora is quite busy, sea lions are everywhere. It's also great to take a ride with the watertaxt to one of the lagoons or to Playa los Alemanes and Las Grietas.
Bachas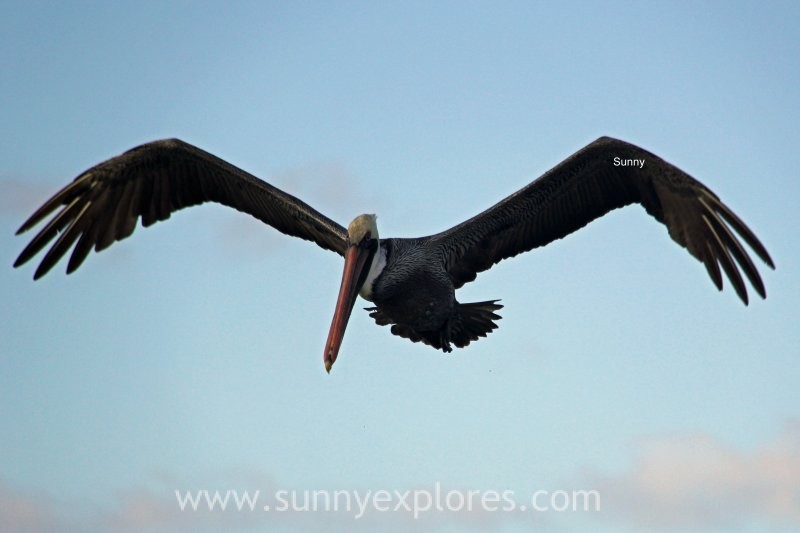 This beach was named after two barges, flat pushers. These boats were left behind by the American army after the Second World War. Bachas is a beautiful beach full of shells and coral debris. Pacific green sea turtles lay their eggs here. When you go snorkling you have a great change to meet the turtles under water looking for food. But you can also stay on land and watch the many iguanas enjoy the rays of the sun. Take your time to observe them and see how they spitt salt from their noses every now and then. It's also great to watch the pelicans dive into to sea to catch fish.
Black Turtle Cove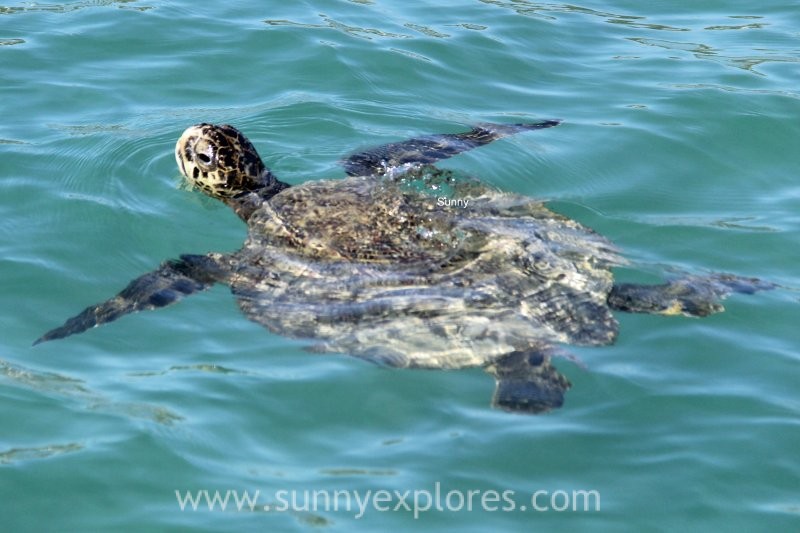 This cove is only accesible with a panga, a small boat. It's a tidal lagoon with mangroves and sailing through them is a true adventure. Snorkling is not allowed here, but also from above water you will spot turtles, golden rays and white tip reef sharks. I took these under water photos from the panga, just holding my camera under water.
Dra
gon Hill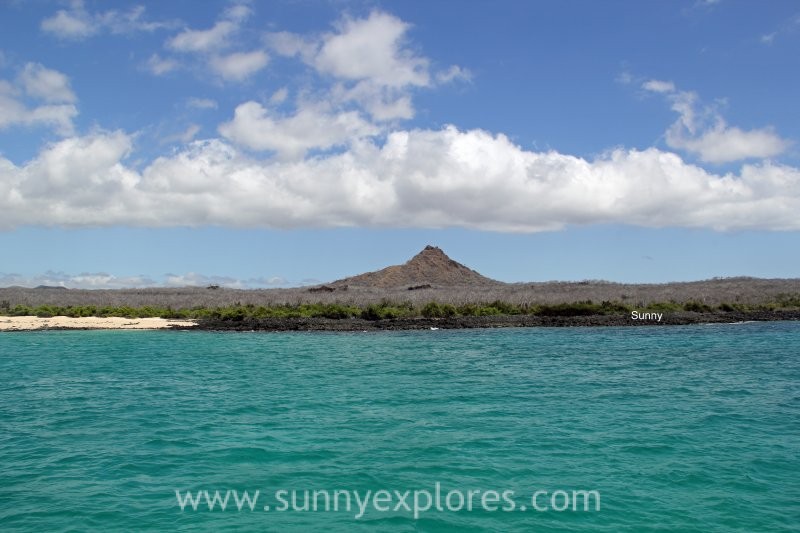 When you visit the Galapagos Islands, you can't miss Dragon Hill, the refuge of the last dragons. Hiking at Dragon Hill feels like walking through a prehistoric landscape full of miniature dragons. The landscape is varied: there is a white sand beach, there is red sand, and the island is covered with lava and cactuses. Don't forget to stop at the salty lagoon to watch the flamingos.
Darwin Center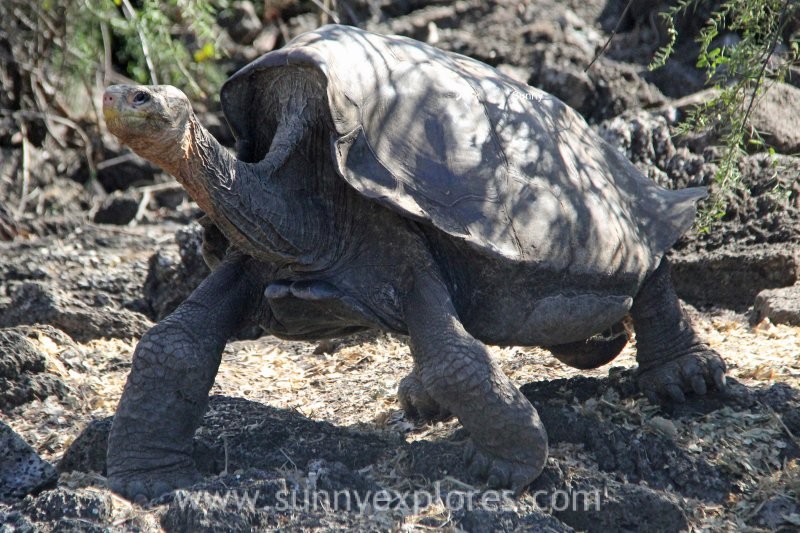 Just outside off Puerto Ayora lies the Charles Darwin Research Station, the center for ecological research on the flora and fauna of the Galapagos Islands. Here you can learn more about the formation of the islands. You can visit the breeding program for giant tortoises. The center also educates local people to protect the special ecosystem of the Galapagos.
El Chato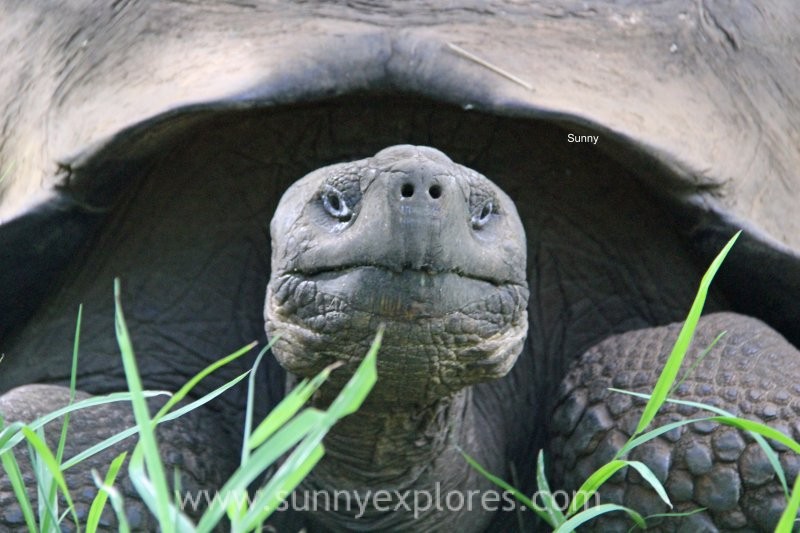 In El Chato you can see the giant tortoises in their natural habitat. Slowly these gentle giants move around in the reserve and on the nearby farmlands. The tortoises were threatened by extinction by passing ships. Sailors took the turtles on board of their ships for food. Lying on their backs the tortoises could stay alive for over a year without any water or food and serve as meat during the long trip home. This caused the extinction of at least 4 tortoises breeds. In this sanctuary it's also possible to explore some lava tubes.
Diving Gordon Rocks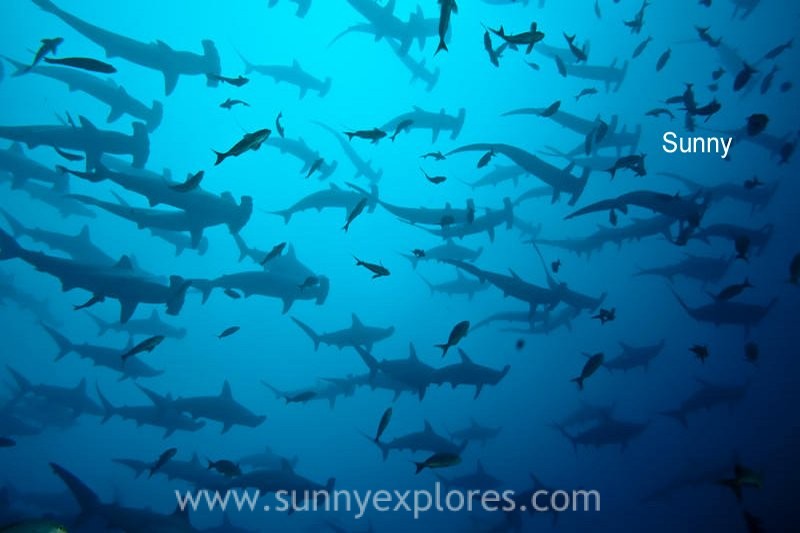 You can't visit Santa Cruz without diving the world famous dive site Gordon Rocks. The marine life here is beyond comprehension: schools of hammerheads, Galapagos sharks, white tip reef sharks, golden rays, eagle rays, morbula rays . I even saw a mola mola. Diving in Gordon Rocks is expensive but a once in a lifetime experience.