Gordon Rocks: diving in the Galapagos Islands
May 26, 2016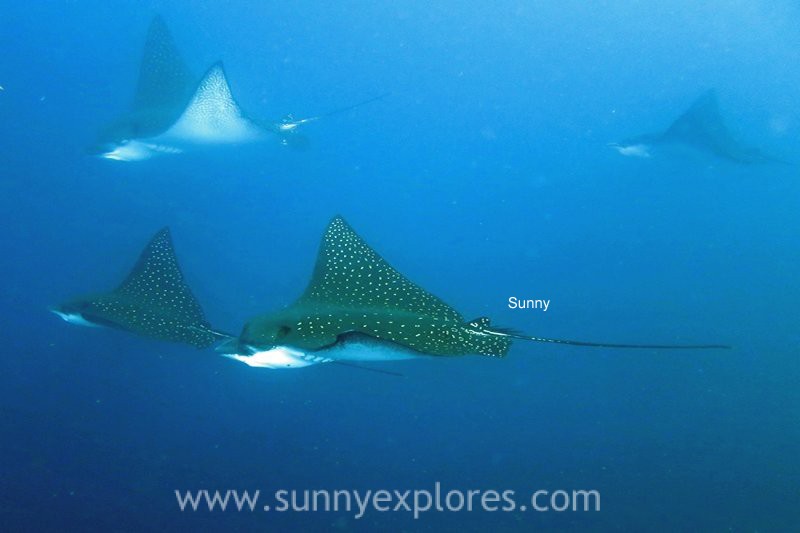 The Galapagos Islands are located in the eastern Pacific Ocean, 973 kilometres off the west coast of Ecuador. The Galapagos Islands have some of the worlds best snorkling and dive spots. There are so many sites for scuba diving and there is so much marine life to see, that is difficult to choose where to dive. The dive site you really can't miss is Gordon Rocks, close to the island Santa Cruz.
Gordon Rocks is one of the best dive sites in the central islands. And it's for sure my favorite. It's located near the east coast of Santa Cruz Island. This site is an eroded crater at the top of a tuff cone. This rock formation is a world renowned site, but only for intermediate and advanced divers due to the strong currents and surge. The surface can be rough. You need at least 30 logged dives to be allowed to dive here. Gordon Rocks is the best place in the Galapagos to dive with hammerhead sharks. But there is so much more marine life to see: Galapagos sharks, white tip reef sharks, mobulas rays, turtles, sting rays, eagle rays, Galapagos eels and barracudas. Do I need to say more?!
Diving in Gordon Rocks is not knowing where to look. When I took pictures of a turtle suddenly hammerhead sharks cruised around.  So I looked at the hammerheads instead and at the same time a school of golden rays swam by. This is diving this site: seeing something special every where you look. I even saw a mola mola. Unfortunately there was so much to see at that moment that I wasn't able to take a mola mola photo. Some eagle rays were in my way! Can you imagen this luxury problem? So all I can say is: if there is one dive site that should be on your bucket list it's Gordon Rocks in the Galapagos Islands.
What is your favorite Galapagos dive site?