A spectacular hike in The Canyon Egypt
July 28, 2015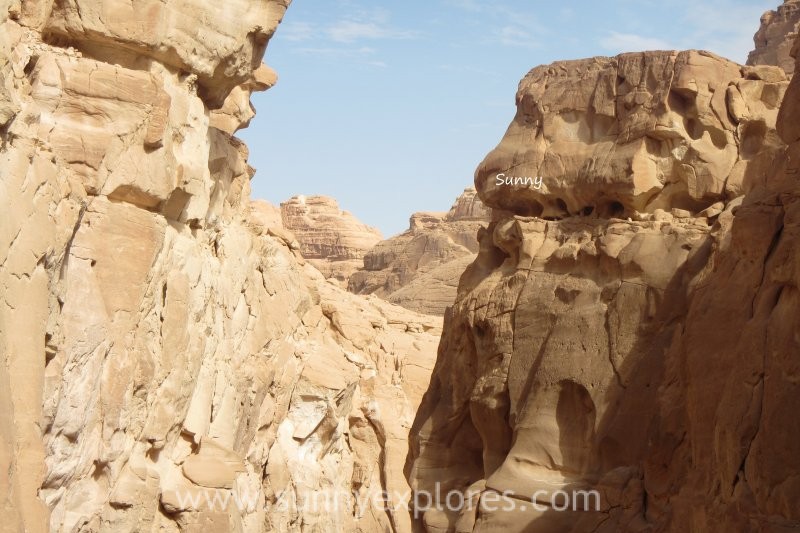 Located about 12 kilometres north of Nuweiba in the Egyptian Sinai Desert the White and Coloured Canyon offer an amazing scenery. Spectacular desert scenes, deep gorges, massive granite peaks and beautiful sculped and coloured walls make it a place you just have to visit!
The White Canyon
The Canyon lies in a limestone mountain chain named 'el Tih'. Millions of years ago the Sinai was covered by sea. The Canyon is eroded by water wich created narrow and twisting paths formed over thousands of years. For your trip you need a jeep and a good guide. Your hike starts with abseiling the gorge. Down in the Canyon you walk between spectacular 60 metres cliffs. Climbing stones you cross a labyrinth of rocks. And after an amazing bedouin lunch in Ain Khudra Oasis, it's time to discover the Coloured Canyon.
Coloured Canyon
The Coloured Canyon is so impressive, it's beyond comprehension. It's not possible to catch it's beauty in words or photos. This is something you need to experience yourself. The sandstone has been mineralized and stained transforming the cliffs into a spectaculair multicoloured stone. You will see rocks and stones in many shapes and colours. You just don't know where to look! And a good guide will tell you some wonderful stories during the hike. So when you are staying in Nuweiba, Dahab or Sharm el Sheik make sure this trip is on your bucket list. My advice: stay in lovely Dahab wich offers a great variety of activities like diving, kiting, camel riding en not to forget: watching mesmerizing sunsets.